Shop Now
Complete line of water structuring and energizing units creating spring like water nature's way.
WHOLE HOUSE MULTI-ROUND WATER SOLUTION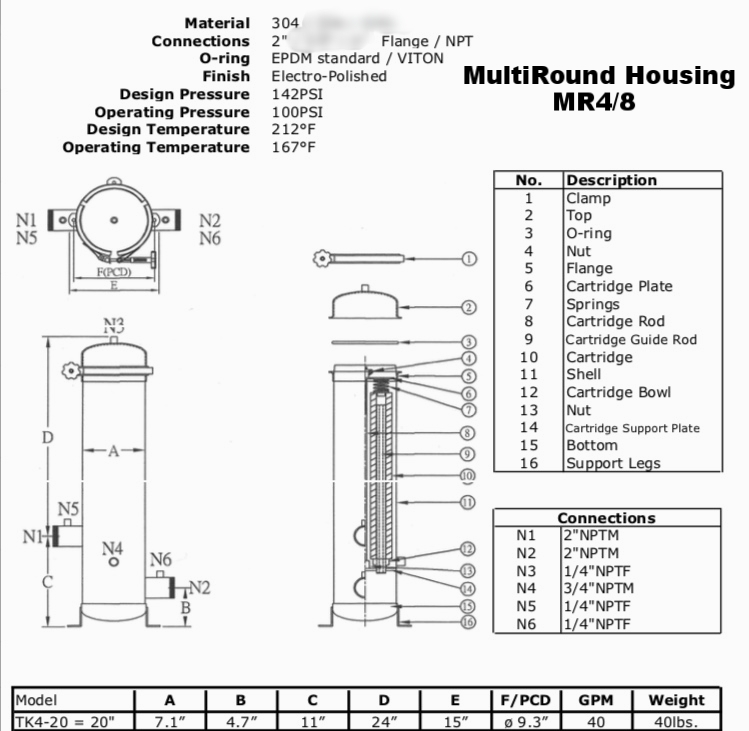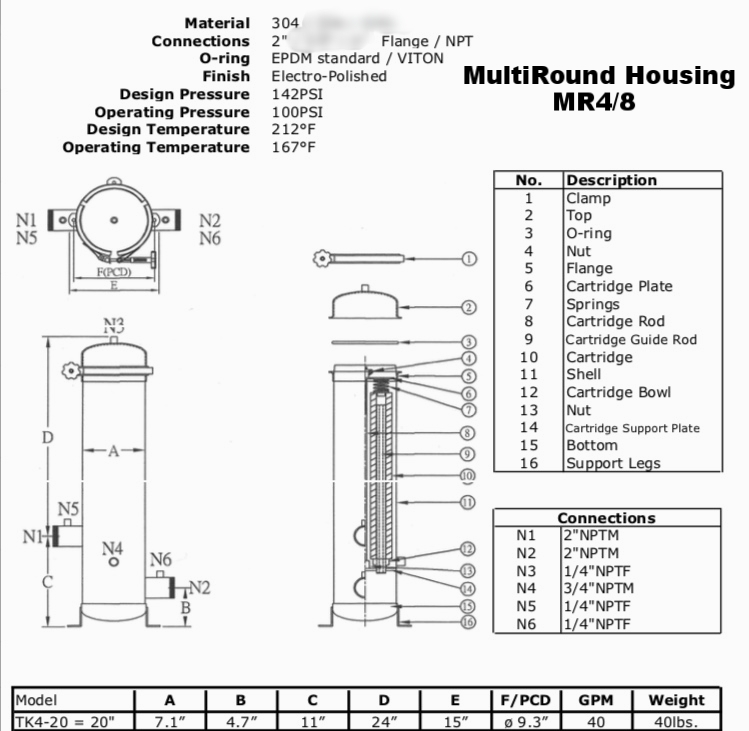 WHOLE HOUSE MULTI-ROUND WATER SOLUTION
Our MR Water Solutions system is the superior solution for structuring, energization and cartridge filtration. No other water treatment product with similar components compares with it!
The MR Water Solutions system is most suitable for city water applications.
Check out our HydroZ Water Solutions system for well water applications.
The Commercial Quality Stainless Steel Multi-Round filter housing features multiple filter cartridges for optimal certified, tested and superior filtering of your water for drinking and bathing.
FILTRATION MODULE FEATURES
Multi-round Top Loading Filter Housings are available in two choices:
Stainless Steel commercial quality housing holding 5 AquaMetix filters for 5 gpm flow, (average home) or 7 AquaMetix filters for 7 gpm flow, (larger home)
The MultiRound vessels are designed to offer a high flow solution for specific removal of challenging, difficult to remove contaminants
AquaMetix Carbon Technology:
Meets or Exceeds NSF/ANSI Standards 42 & 53 for the following:

> 99% Chloramine reduction - 3ppm challenge

> 99% Chlorine reduction

> 99% Lead reduction

> 99% Herbicide and Pesticide reduction

> 99% Glyphosate reduction

> 98% VOC reduction

> 98% Heavy metal reduction

> 98% THM's (Trihalomethanes) reduction

> 92% Nitrates reduction

> 85% Fluoride reduction - All types - Fluorosilicic acid/hydrofluorosilicate, sodium fluorosilicate, and sodium fluoride

>99% Fluorinated Organic Acids (PFOA & PFOS)

>99% Micro plastics
3rd party tested for the removal of Chloramine, Chlorine, Lead, and Mercury while reducing a wide array of toxins and chemicals.
What is AquaMetix®?
A proprietary matrix comprising of at least two types of activated carbon, combined with proprietary Zeolite minerals, structurally bound with polymers into a highly porous block filter form.
This very unique adsorbent will adsorb a variety of organic and inorganic substances; chlorine and the more difficult to remove chloramine. AquaMetix® is a unique technology designed to provide the highest quality drinking water possible from a single stage block filter.
AquaMetix® will reduce a wide variety of drinking water contaminants of both aesthetic and health concern. The dense pore structure and vast surface area is ideally suited to improving taste and odor, color, chemicals, and fluoride.
AquaMetix® combines the highest FDA-compliant raw materials, with cutting-edge manufacturing methods resulting in unparalleled performance in an exclusively U.S.A. Manufactured product.
MR5/MR7 Tested and certified for the following capacities:
30,000/57,000 gallons Chloramine >99% (non-detect)

30,000/57,000 gallons Mercury >97%

30,000/57,000 gallons Lead >98.5%

60,000/90,000 gallons Chlorine >99% (non-detect)

Filters should be replaced at least annually
WATER STRUCTURING/ENERGIZATION MODULE
Provides superior structuring and energizing performance unsurpassed in the marketplace.
Your body requires structured water in order to thrive and if the water entering your body isn't structured, your body has to expend energy structuring water before it can be used for intracellular and extracellular activities. That's why customers will tell us they have more energy after drinking structured water.
BENEFITS
Improves Water Taste

Clarifies Water

Softer Healthier Skin

Gives The Body More Energy

Enhances Cell Hydration

Improved heat retention for hot water

Reduces chemical use & cleaning for pool & spa

Improves bacterial action in septic tanks

Reduces sludge in septic tanks

Added vitality and health to gardens and landscape

Changes chlorine to a chloride, eliminating allergenic reactions such as skin rash

No maintenance required

No moving parts to replace

No filters to change
How Does The Quad Flow Enhance Water?
The Quad Flow mimics nature creating water infused with vital life force.
The Quad Flow structures and energizes water by subjecting it to vortex action and energy emitting natural minerals.
Read more about how the Quad Flow works
System Cost:
Water structuring & stainless steel filter module, (average size home) MR5 - $2400 (see image).

Structuring & stainless steel filter modules with single housing holding seven filters. (large home) MR7 - $2900
MR5 - 5 filter replacement - $400

MR7 - 7 filter replacement - $560

Check out our HydroZ for an economical option.