shop now
Complete line of water structuring and energising units creating spring like water nature's way.
WHOLE HOUSE WATER SOLUTION (HYDRO-Z)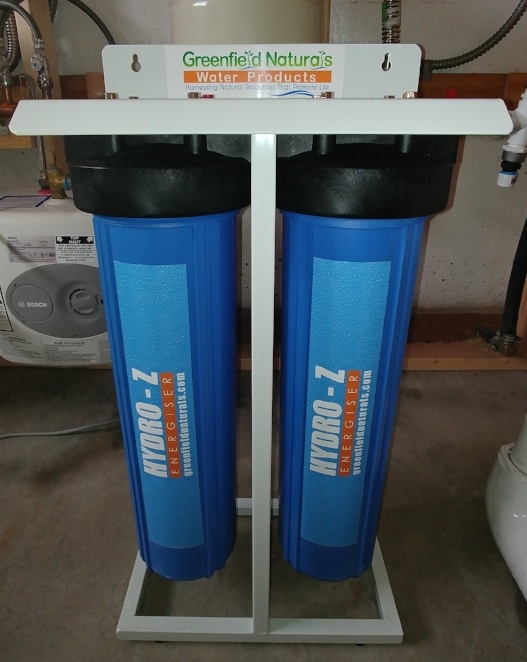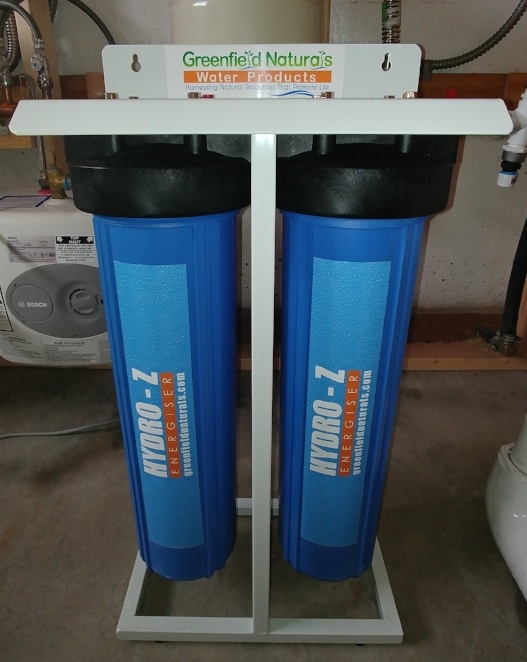 WHOLE HOUSE WATER SOLUTION (HYDRO-Z)
Our HydroZ Whole House Water Solutions system is best suited for well water applications.
Filtering Component
The HydroZ consists of dual zeolite/carbon/mineral ball filter cartridges and our Quad Flow unit which will also filter, structure and energize water for your whole house.
Additional filtering may be required at your faucet for drinking depending on the toxicity load of your water.
What Does The HyroZ Do For Your Water?
The HydroZ mimics nature creating healthy, clean water infused with vital life force using zeolite, carbon media to filter and energise water.
Carbon media included in your system will vary depending on whether or not your water contains flouride or chloramines. If you're unsure which carbon filtering media to order, contact us and we'll help you figure out which carbon is most appropriate for your application.
Granulated Activated Carbon for chlorine reduction and general cleansing of water.

Catalytic Carbon for chloramines reduction and general cleansing of water.

Bone Char for fluoride reduction and general cleansing of water.

If your water utility uses both chloramines and flouride, you will need a one filter with bone char and the other filter with activated carbon. (This would need to be confirmed in the notes section when placing your order or by contacting us).
Benefits
Filters particulates down to 5 microns using zeolite and other natural minerals as well as bone char, catalytic carbon or granulated activated carbon.

Taste and odor improvement

Energizing and filtering with ceramic mineral balls

Reduction of toxins and chemicals

Heavy metals reduction

Nitrate reduction

Protection from pathogens

Improved hydration for drinking and bathing
Yearly Big Blue filter replacement cost: $280
Additional filtration with the Quad Flow CMB: $192
Pre and post water testing should be done to determine effectiveness for your application. Water test strips can be purchased from Amazon.
Structuring & Energizing Component
Choose from two options:
The Quad Flow features four vortexing flow tubes to structure water and two Harmonizer cartridges to energize water.

The Quad Flow CMB features two vortex flow tubes, two zeolite/carbon/mineral ball filter cartridges, two vortex flow tubes and two Harmonizer cartridges.
No Electricity

All Natural Media

Brings Water Back To It's Natural State
Your body requires structured and energized water in order to thrive and if the water entering your body isn't structured, your body has to expend energy structuring water before it can be used for intracellular and extracellular activities. That's why users will tell us they have more energy after drinking structured water.
BENEFITS
Enhances Cell Hydration

Improves Water Taste

Clarifies Water

Softer Healthier Skin

Improved heat retention for hot water

Reduces chemical use & cleaning for pool & spa

Improves bacterial action in septic tanks

Reduces sludge in septic tanks
What Does The Quad Flow Do For Your Water?
The Quad Flow mimics nature creating water infused with vital life force.
The Quad Flow structures and energizes water by subjecting it to vortex action and energy emitting minerals.
Quad Flow Features
Four flow tubes filled with a triangular configuration of glass spheres to vortex water non-sacrificially for optimal structuring

Contains two Harmonizer cartridges embedded within the flow tubes for optimal transfer to water of natural EMF

No maintenance required
Quad Flow CMB Features
Similar to the Quad Flow but two of the flow tubes are replaced with zeolite/carbon/ceramic mineral ball cartridges which require annual replacement.
Read more about Ceramic Mineral balls.
Read more about how the Quad Flow works.
Additional Information
Our most effective water solutions systems are the combination series using top loading filter housings with AquaMetix filters in conjunction with the Quad Flow or Quad Flow CMB. Your options for these systems are listed here. (This system is not appropriate for well water applications).
The top of the line choice for city water would be our MR series..
Depending on water quality, additional filtration with a Under Sink Triple Stage unit may be required.
Heavy duty "Big Blue" housing with pressure relief valve

NSF certified materials

Dimensions: 8" deep x 30" high x 18" wide

Weight 35 lbs
Household Gallons Per Minute Usage
Toilet 2 gpm

Shower 2 gpm

Bathroom faucet 1.5 gpm

Kitchen faucet 2 gpm

Dishwasher 3 gpm